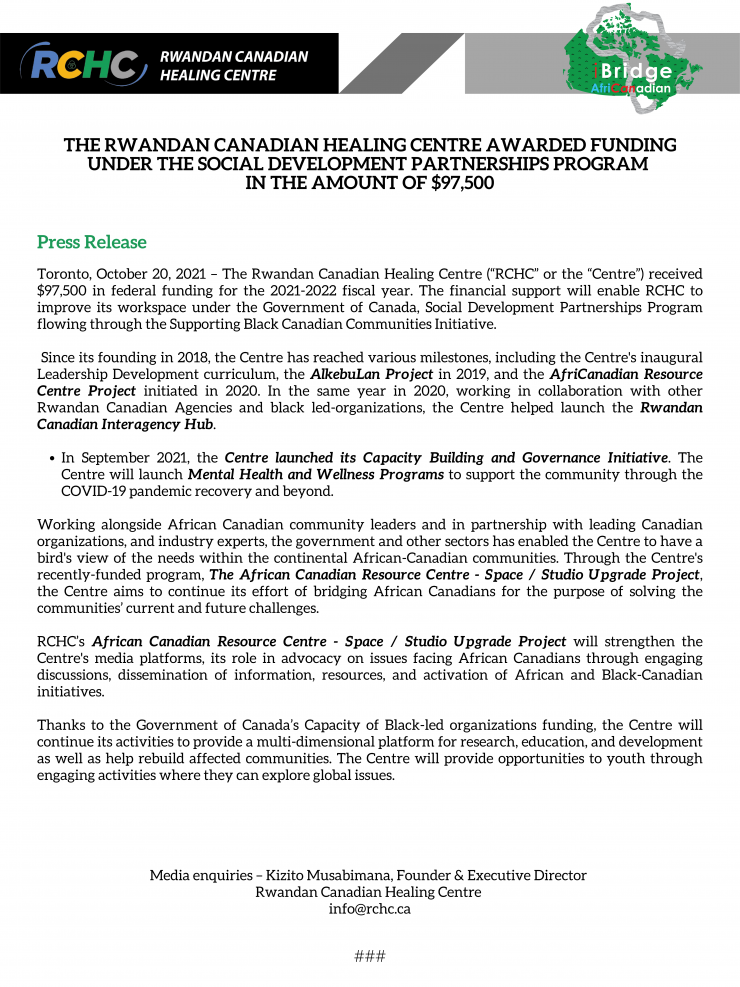 Toronto, October 20, 2020
The Centre is currently looking to update the AfriCanadian Resource Centre Studio Space. The aim of this project is to help provide additional Studio Space and improve the content delivery systems.
The Centre's Studio & Workspace Upgrade will increase the Centre's capacity to advocate and raise awareness of issues facing Africa Canadians through engaging discussions, dissemination of information & resources, and activation of African and Black Canadians initiatives.
For more details, contact us at info@rchc.ca
Press Release File
pdf 503.17 KB 20 Kizito 2021-10-19, 6:16 p.m.
Download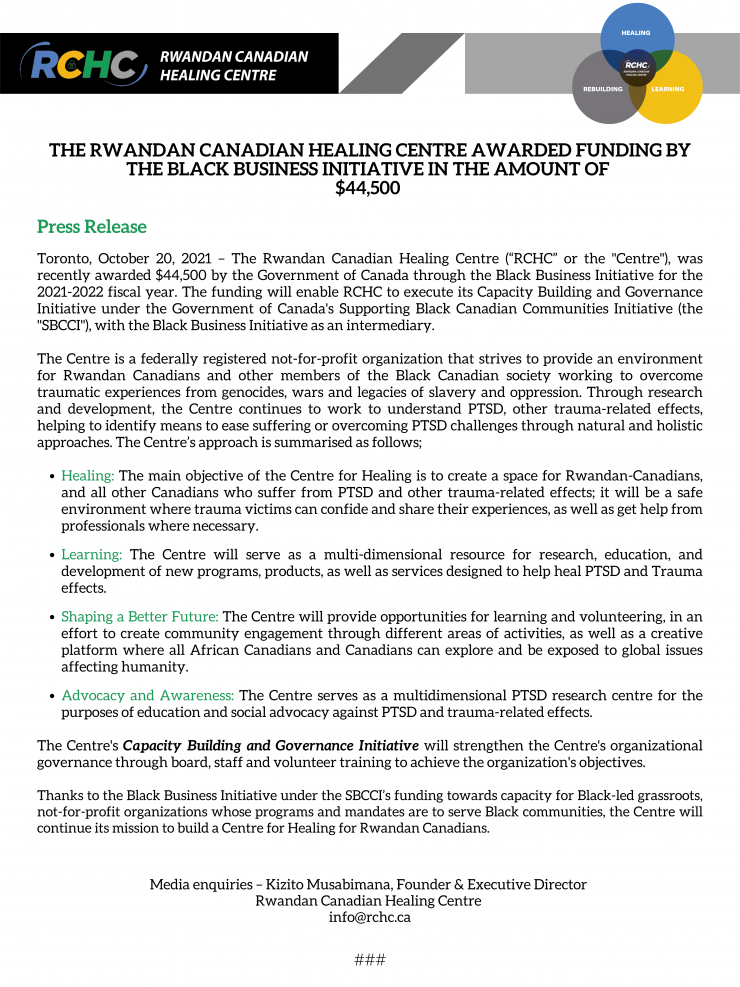 Press Release - October 20, 2021
The Centre is proud to announce the launch of its Capacity Building & Governance Initiative, funded by the Government of Canada through the Black Business Initiative - Supporting Black Canadian Communities Initiative.
The objective of the project is to Strengthen organizational governance through board, staff and volunteer training.
For more details, contact us at info@rchc.ca
Press Release File
pdf 212.06 KB 20 Kizito 2021-10-19, 6:16 p.m.
Download
Published - November 9, 2020
As part of our organization's Rebuilding Objective, the RCHC is proud to be part of the Rwandan Canadian - Toronto community collaborative Cluster - for COVID19 response funding that's led by @carytoronto that includes
@beyondtheveilmission Umurage: Association Des Femmes Rwandaise du Grand Toronto.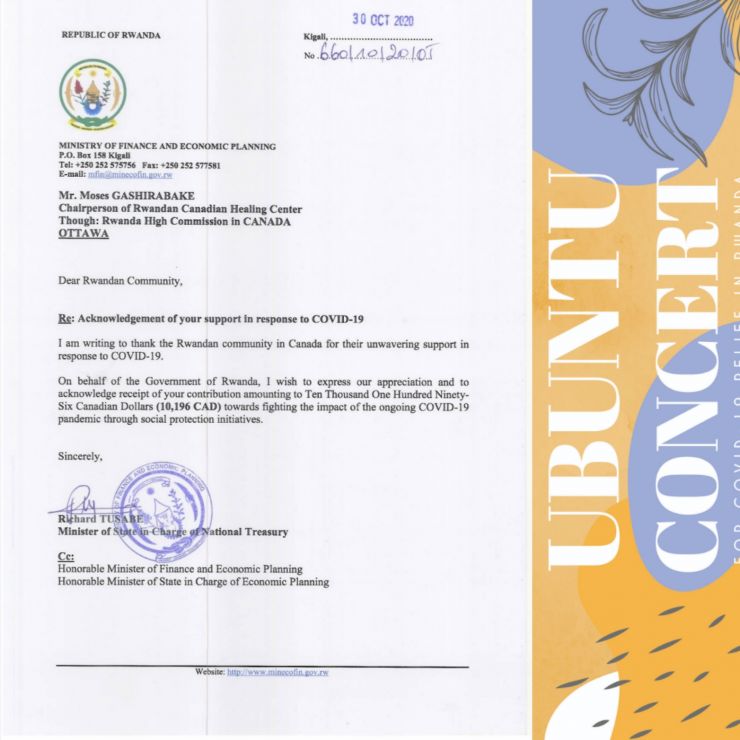 Published - October 2020
The Rwandan Canadian Healing Centre would like to thank everyone who offered their effort towards the Rwandan Relief #UBUNTU CONCERT Fundraising Campaign.

In particular, we would like to thank @united_for_humanity_ @ubumuntu.artsfestival and @carytoronto for their wonderful collaboration.

To all Artists, volunteers and organizers of the Ubuntu Concert, we are forever grateful for the time and effort you showed towards our campaign.

Lastly, to all our donors, we came to you when times were difficult and still you gave and shared, for your generosity we wish you many more blessings over and beyond.

Let's keep safe and keep on giving.

Yours sincerely,

Kizito,
@rchcentre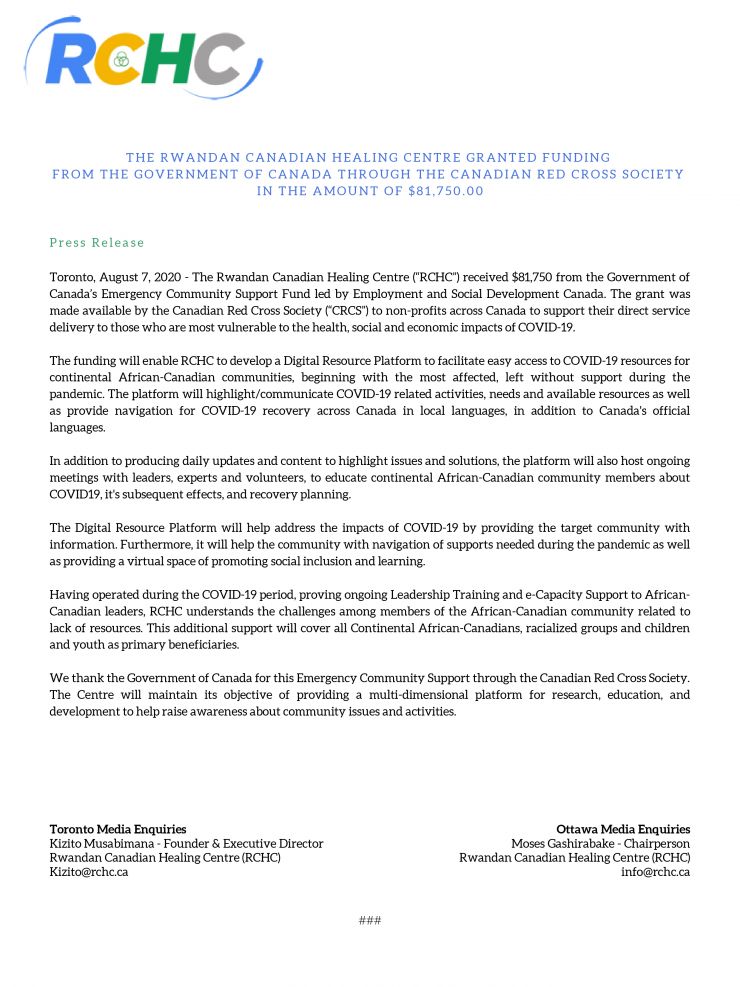 Published August 7, 2020
The RCHC is proud to announce that we've been entrusted to build a Digital Platform to easy access to resources, specifically COVID19 Emergency Support & Recovery information for continental African Canadian Communities.

For more information, you can reach out to our media enquiries contacts.
In 2020, the RCHC was graciously nominated/selected to take part in the Heroes Series by Great and Mighty Things Inc.
About the Project:
HEROES' objective is to identify non-profits doing phenomenal work in our communities, and help them use the power of communications to amplify their voices and attract support to scale up their impact. Learn more: https://greatandmightythings.ca/heroes-series/